For Smooth, efficient and safe transportation of passengers in stations, airports and shopping malls
New End Line Allows a More Natural Grip and Release
A new end created after extensive ergonometric studies enables riders to grip the handrail in a more natural position when stepping on and off the autoline.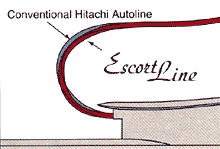 Unique Pallet Technology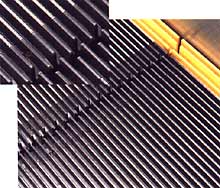 Hitachi Yellow Demarcation
A Yellow Demarcation made from synthetic resin is provided on both sides of the pallet to clearly differentiate it from other pallets. This zone allow at-a-glance confirmation of where to step.
Raised Tread on Both Sides
To prevent shoes from catching in the skirt guard, the tread of the stepping plates is 8mm higher on both sides.
Stainless Steel Pallets
Hitachi is the first in the industry to introduce stainless steel pallets. They are pressed from stainless steel plates. The higher strength of stainless steel prevents the pallet surface from being deformed by umbrella tips or other sharp objects. This substantially increases the life of the Pallets.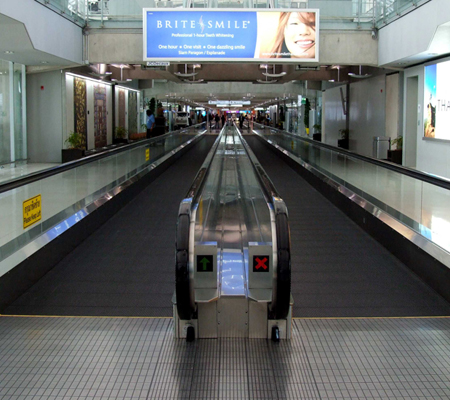 Slim Handrail
The width of the handrail is narrower and more comfortable to hold. Even children can hold on to these handrails with ease.
Approch Lanes Guide Entrance and Egress.
The landing plates feature approach lanes that lead passengers to the pallets in order to make the traffic flow more obvious. A patterned area on the landing plate, the same width as the pallets, facilitate passenger movement when entering and exiting the autoline.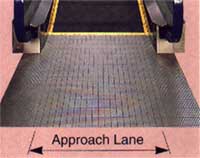 Helical Gear Drive
A compression between helical gear drive and a similar Hitachi system without helical gears showed approximately a 25% saving of energy for the former.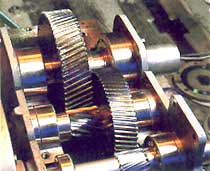 Specifications

Standard Specifications of Type 800, 1200, 1600EX
(Horizontal type) Autoline

Type

800 EX

1200

1600 EX

Effective step width
800 mm
1200 mm
1600 mm
Speed
30 m/min or 40m/min
Angle of inclination
0 degree (horizon)
Operating system
Key switch operation, reversible system
Motor type
3-phase induction motor
Power supply
AC200-220/400-440V; 50/60 Hz

Standard Specifications of Type 1200EXS
(Inclined type) Autoline
Type

1200EXS

Effective step width
Speed
30 m/min
Angle of inclination
12 degree
Operating system
Key switch operation, reversible system
Motor type
3-phase induction motor
Power supply
AC200-220/400-440V; 50/60 Hz
Material and Finish
Item

Description

Model EX-P

Model EX-N

Balustrade
Panel
Stainless steel, hairline finish
Clear tempered glass
Balustrade lighting
--
Slimline lamp (option)
Handrail
Composed of hypanion rubber (standard 8 colors)
Handrail frame
Stainless steel, hairline finish
Desk cover
Stainless steel, hairline finish
Skirt guard
Stainless steel, hairline finish
Floor
Comb
Reinforced synthetic resin (color: light yellow)
Comb plate
Custom printing of the cover plate (Option)
Landing plate
Custom printing of the cover plate (Option)
Pallet
Pallet tread
Stainless steel, processed with roulette
Demarcation lines
Synthetic resin-demarcation (color: light yellow) raised tread